Тип товара:
Лицензионный ключ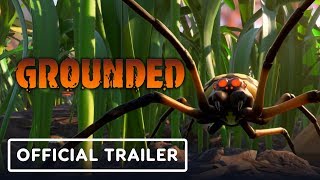 Купить Grounded (RU/UA/KZ/СНГ)
================================================ STEAM GIFT ================================================
Отправка игры проходит в автоматическом режиме. Сразу же после оплаты начнется процесс передачи игры на ваш аккаунт. При успешном выполнение всех условий игра будет полностью активирована на вашем аккаунте в течении нескольких минут.
ВНИМАНИЕ!
В зависимости от выбора региона эта игра может быть активирована только в следующих странах:
- Россия, Украина, Казахстан: только указанная страна
- Страны СНГ: Беларусь, Армения, Азербайджан, Грузия, Киргизстан, Молдова, Таджикистан, Туркменистан, Узбекистан
Проверить регион своего аккаунта можно по ссылке: https://store.steampowered.com/account/
Жанр: Экшены, Приключенческие игры, Ранний доступ
Разработчик: Obsidian Entertainment
Издатель: Xbox Game Studios
Языки: Английский
Все игры куплены официальным путем напрямую через платформу Steam. На все купленные товары распространяется пожизненная гарантия. Если у вас возникли какие-то трудности с активацией или получением игры незамедлительно обращайтесь на любой из контактов указанных в профиле, либо через чат на сайте продажи.
Отзыв о покупке можно оставить на странице получения товара, во вкладке «Отзыв». После чего вы сможете его увидеть тут.

Если вам понравился наш ресурс или у вас есть замечания и предложения, оставьте так же ваш отзыв о магазине на странице «Отзывы». Для нас это очень важно. Спасибо!
08.11.2020 19:08:44
A.M.A.Z.I.N.G Seller. Low price, support instant & faster ! He help me for change region in my account. Thans you so mutch. 10/10 PERFECT.
17.10.2020 16:15:01
Key was delivered instantly and activated instantly! (-in Ru/CIS countries only)
29.08.2020 13:46:32
actually amazing service instantly responded to me and sorted the problem
20.08.2020 21:20:53
Fast and good! Recommended!
18.08.2020 2:36:49
works well!
09.08.2020 16:57:07
Best customers service!
Webmoney

Qiwi

Visa

Яндекс Деньги

MasterCard

Мегафон

МТС

Через терминал

Билайн

Сбербанк

Промсвязьбанк

Альфа-банк

ВТБ

Русский стандарт