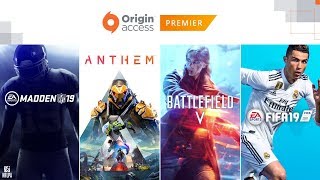 Список игр по подписке EA Play смотрите тут: https://www.ea.com/ru-ru/ea-play/games-ea-play

С EA Play вы получите больше впечатлений от игры, ведь вас ждут:

— доступ к эксклюзивным преимуществам для игроков и библиотеке популярных серий и лучших игр;
— возможность оценивать избранные новинки ещё до их официального выхода в течение 10 часов. А если вы купите игру, игровой прогресс будет сохранён, и вы сможете продолжить играть с того места, где остановились;
*Примечание :Подписки рандомные от 1 месяца до 12 месяцев ( на добавленные или удаленные игры аккаунт не проверяется только на работоспособность и подписку )
*Аккаунт Origin вида: Логин и пароль!!!Язык игры случайный ,может быть как и Русский так и другой язык игры!!!
Отзыв о покупке можно оставить на странице получения товара, во вкладке «Отзыв». После чего вы сможете его увидеть тут.

Если вам понравился наш ресурс или у вас есть замечания и предложения, оставьте так же ваш отзыв о магазине на странице «Отзывы». Для нас это очень важно. Спасибо!
04.09.2021 15:00:20
хочу подарок
04.09.2021 13:56:53
хочу подарок
31.08.2021 12:17:05
отличный продавец.все отлично.хочу подарок
08.08.2021 11:12:36
Все решили очень хороши продавец)
07.08.2021 19:31:06
Выпал акк на 12 мес оочень повезло рекомендую))
03.07.2021 13:11:51
возникли проблемы, но очень быстро всё решили. хороший продовец
06.06.2021 20:36:03
Все отлично !!! Рекомендую!
18.12.2020 8:38:20
Got the account immediately after purchase no problems. Fantastic Experience. ( I want a gift please :) ) Just one question am i allowed to change the name of account ?
10.11.2020 0:40:21
Все супер аккаунт класс!хочу подарок
01.11.2020 0:46:44
хочу подарок
20.10.2020 13:43:25
все четко
17.10.2020 21:13:14
Все отлично работает, хочу подарок!
21.06.2020 22:17:09
Всё работает. Продавец надёжный! Хочу подарок!
25.05.2020 14:27:37
I got replacement from the seller. Thanks :)
14.05.2020 17:03:21
Оформил замену, хороший продавец, очень быстрый
Webmoney

Qiwi

Visa

Яндекс Деньги

MasterCard

Мегафон

МТС

Через терминал

Билайн

Сбербанк

Промсвязьбанк

Альфа-банк

ВТБ

Русский стандарт