Тип товара:
Лицензионный ключ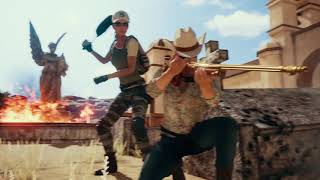 Купить PLAYERUNKNOWNS BATTLEGROUNDS (PUBG) Steam Key GLOBAL
Моментально после оплаты вы получите ключ активации игры в Steam.

Эта игра не имеет региональных ограничений и может быть активирована в любой стране.

Жанр: Насилие, Экшены, Приключенческие игры, Многопользовательские игры, Ранний доступ
Разработчик: Bluehole, Inc.
Издатель: Bluehole, Inc.
Языки: Русский, Английский

Шутер в котором выигрывает последний оставшийся в живых участник. Начиная игру ни с чем, вы должны раздобыть оружие и припасы чтобы бороться за первое место и стать последним героем. Битва в этой реалистичной игре с высоким напряжением происходит на огромном 8х8 километровом пост-советском черноморском острове Ерангел.
Отзыв о покупке можно оставить на странице получения товара, во вкладке «Отзыв». После чего вы сможете его увидеть тут.

Если вам понравился наш ресурс или у вас есть замечания и предложения, оставьте так же ваш отзыв о магазине на странице «Отзывы». Для нас это очень важно. Спасибо!
23.09.2019 0:45:46
Ключ рабочий.
28.01.2019 4:13:05
Всё ок!
25.01.2019 20:19:02
Всё отлично !
08.12.2018 21:35:18
Всё пришло без всяких проблем..
09.11.2018 6:16:36
seller is nice. I have bought 3keys and one of them have some problem, but the seller replace it.
06.10.2018 15:57:54
Всё хорошо,ключ пришёл,всё работает..
03.10.2018 0:39:54
Всё супер. Ключ пришел незамедлительно
05.11.2018 14:06:09
Все проблемы решены
28.09.2018 5:01:14
Сразу после оплаты получил ключ, активировал в зоне европы без проблем.
21.01.2020 16:02:42
Быстро, четко спасибо
08.11.2018 13:02:33
fast, reliable, no scam.
03.07.2018 20:04:10
its ok!
09.09.2019 15:23:49
Заменил не прошедший товар,все отлично
29.10.2018 15:38:20
ХОРОШО!
Webmoney

Qiwi

Visa

Яндекс Деньги

MasterCard

Мегафон

МТС

Через терминал

Билайн

Сбербанк

Промсвязьбанк

Альфа-банк

ВТБ

Русский стандарт